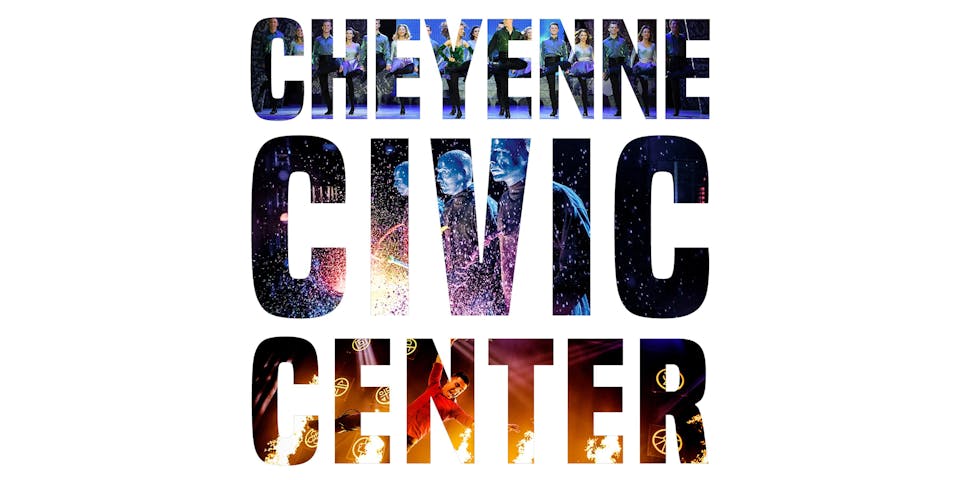 Civic Center 2019 - 2020 Season Announce
Rudolph the Red-Nosed Reindeer:The Musical
Cheyenne Civic Center
$120.00 - $300.00
Tickets At The Door
A new, more-traditional season package for the Cheyenne Civic Center featuring Broadway shows and theatrical performances for 2019-2020!
Important Dates to Remember:
May 29 - June 15: Current season subscriber sales
June 19 - July 20: New season subscriber sales
July 24 - Onward: Individual Ticket Sales
What's the new season deets?
This year we have 10 shows total, with 5 being in the core package. Subscribers will receive 1 ticket to each of the 5 shows in our core package. After that, additional tickets to those 5 shows or additional shows may be added on at a great discount!
Learn about the shows below!
The Core Package Includes:
Cocktail Hour: The Show
Riders in the Sky & The Quebe Sisters
An American in Paris
Bandstand
The Blue Man Group
Depending on where you sit, prices will be adjusted accordingly. Have a seat you LOVE? If you're a previous subscriber, we'll hang on to that one and give you first right of refusal until June 15! If you're a new subscriber, we'll give you first dibs on those ones you buy next year, too!
Pricing per package (Savings of 10% off regular ticket prices. Each package includes 1 ticket to each of the above core package shows):
PL-1: $300
PL-2: $245
PL-3: $200
PL-4: $155
PL-5: $120 (Limited seating available)
But wait! There's more! Add On Additional Shows!!!
You have the opportunity to buy additional tickets to any of the shows listed below at a great discount. All tickets are subject to availability. And adding them on top of the core package is entirely optional.
Take an Additional 10% Off:
The Blue Man Group
Riverdance - New 25th Anniversary Show
Take an Additional 20% Off:
Million Dollar Quartet
Riders in the Sky/ The Quebe Sisters
Rudolph the Red-Nosed Reindeer: The Musical
Champions of Magic
An American In Paris
Bandstand
Cocktail Hour: The Show
The Color Purple
The Fine Print....
Nominal fee applies for all credit card transactions. Cash and check accepted.
Highest discounts offered are during season sale. No discounts on individual tickets offered after August 3.
Individual ticket prices (not discounted) are available.
Riverdance has a separate seating chart than the other shows listed, which may put you in a higher/lower ticket price.
How to Order:
Because these tickets are specific to subscriber seats and availability, we ask that you call or stop in the Civic Center Box Office to purchase your tickets (307-637-6363 or 510 West 20th Street, Cheyenne). The Box Office is open Wednesday - Friday, 11 a.m. - 6 p.m., and Saturday, 11 a.m. - 2 p.m .
Questions? Email events@cheyennecity.org and we'll get you the help you need!
Ballets with a Twist Presents Cocktail Hour: The Show
October 4, 2019 at 7:30 p.m.
From a blonde bombshell superspy to a legendary warrior, a Hawaiian island beauty to a rockabilly rebel — dancing drinks from around the globe take the stage in Cocktail Hour: The Show, by Ballets with a Twist. This dazzling production from New York City brings the Mai Tai, Martini, Manhattan, and more to life through a theatrical mix of original choreography, music, and design. It's electrifying entertainment for all ages.
Under the direction of choreographer Marilyn Klaus, Ballets with a Twist has performed across the country, bringing its floorshow-to-stage style to theaters, nightclubs, festivals, and a variety of other unique settings. Featuring music by Stephen Gaboury and costumes by Catherine Zehr, the company's innovative repertory invites a wide range of audiences to enjoy the glamour and excitement of classic entertainment with a 21st-century twist.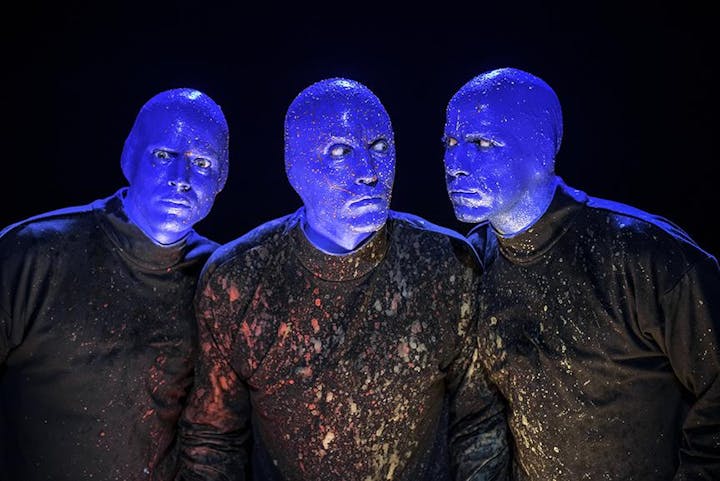 Blue Man Group SPEECHLESS Tour
October 29 & October 30, 2019 at 7:00 p.m.
The world-renowned bald and blue trio embarks on a new journey of discovery, the result of over 27 years spent observing humanity. SPEECHLESS will feature new and original compositions, acts, and instruments alongside iconic Blue Man Group moments based in joy, art, music, comedy, social commentary, and hilarious absurdity. Join the fun as the Blue Men search for the elusive ~present moment~ while creating moments of large-scale participation and universal connection with the audience (that's you!) that unites us beyond words in our always-on world.
The Blue Men see fun in your future and are here to reignite your digitally-overloaded senses. If you like normal, think again--'cause this show is a rollicking, rowdy, rave of a good time. You'll witness music, laughter, and surprises over and over.
Join us in Cheyenne and experience a new blue. It's time for you to have the time of your life.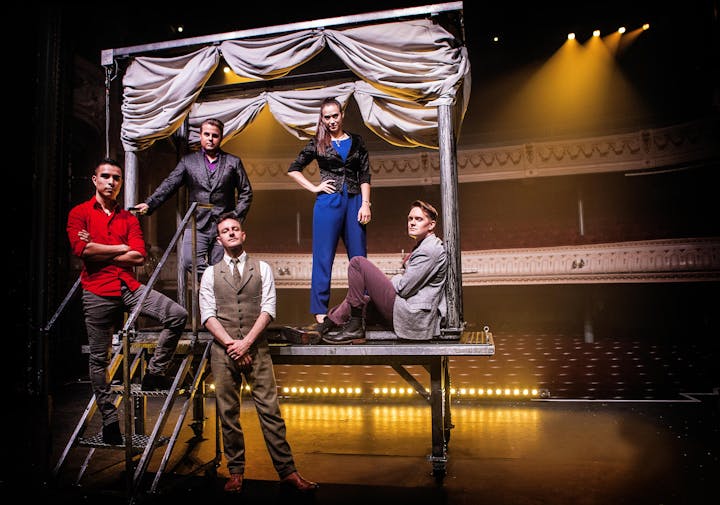 Champions of Magic
November 9, 2019 at 7:30 p.m.
With more than 30 million online views between them, this cast of top magicians includes international award-winners presenting incredible mind reading, stunning close-up magic and daring large-scale illusions. Their skills have been seen on screen around the world with appearances on The CW's 'Penn & Teller: Fool Us', NBC's 'Caught on Camera with Nick Cannon', 'The Today Show' & 'Access Hollywood Live'.
The Champions Of Magic team present incredible illusions with supercars, an impossible escape from Houdini's water torture cell, a mind-blowing prediction that has to be seen to be believed, levitation high above the stage and a finale beyond explanation. The show features spectacular magic that can't be seen anywhere else.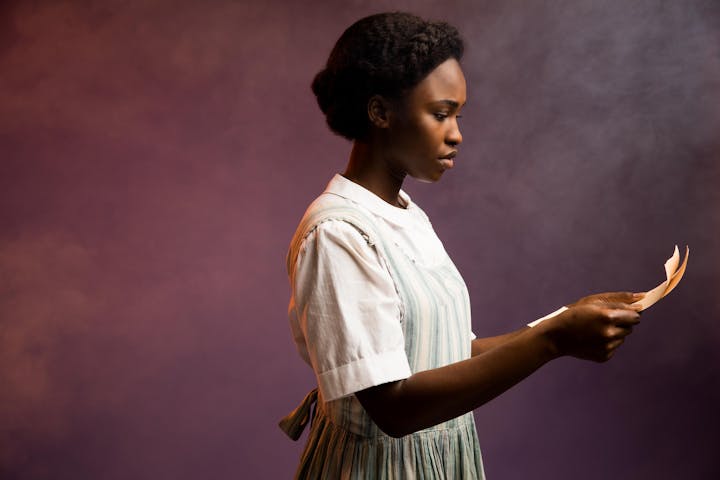 The Color Purple
November 24, 2019 at 7:30 p.m.
Hailed as "a direct hit to the heart" (The Hollywood Reporter), this joyous American classic has conquered Broadway in an all-new "ravishingly reconceived production that is a glory to behold" (The New York Times).
With a soul-raising, Grammy®-winning score of jazz, gospel, ragtime and blues, The Color Purple gives an exhilarating new spirit to this Pulitzer Prize-winning story.
Don't miss this stunning re-imagining of an epic story about a young woman's journey to love and triumph in the American South. Experience the exhilarating power of this Tony-winning triumph that New York Magazine calls "one of the greatest revivals ever."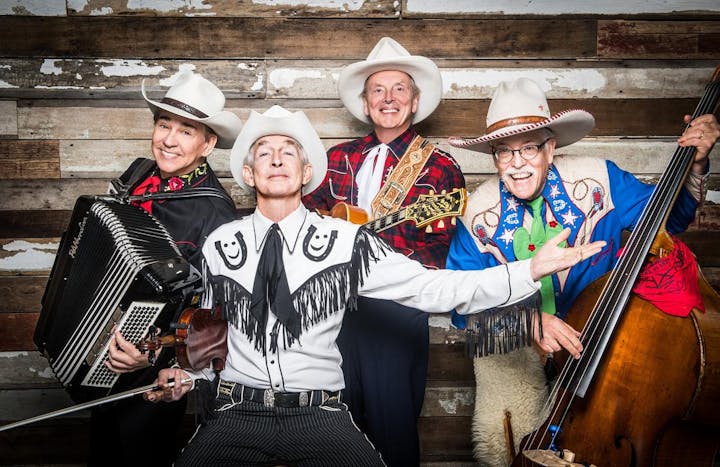 Riders in the Sky (Co-Headlining with The Quebe Sisters)
November 30, 2019 at 7:30 p.m.
For 38 years, Riders In The Sky have been keepers of the flame passed on by the Sons of the Pioneers, Gene Autry and Roy Rogers, reviving and revitalizing Western music. And while remaining true to the integrity of the genre, they have themselves become modern- day icons by branding it with their own legendary wacky humor and way-out Western wit, and all along encouraging buckaroos and buckarettes to live life "The Cowboy Way!"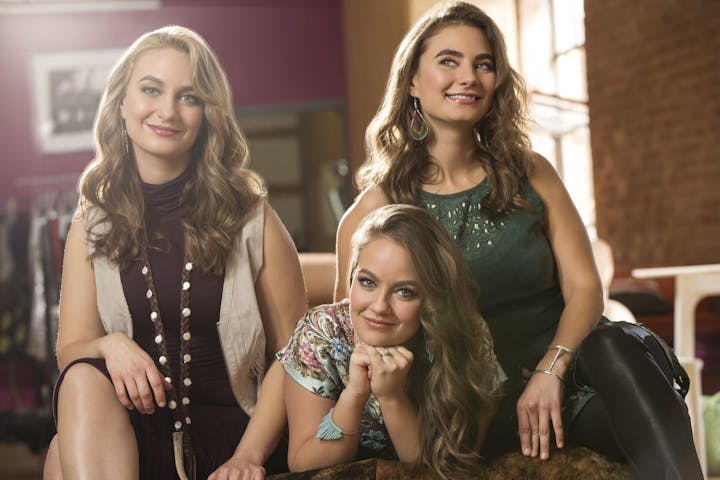 The Quebe Sisters (Co-Headling with Riders in the Sky)
November 30, 2019 at 7:30 p.m.
Grace, Sophia, and Hulda Quebe front an innovative Progressive Western Swing band of archtop guitar, upright bass, fiddles and sibling harmony. The Dallas-based five-piece presents a unique Americana blend of Western Swing, Jazz-influenced Swing, Country, Texas-Style Fiddling, and Western music.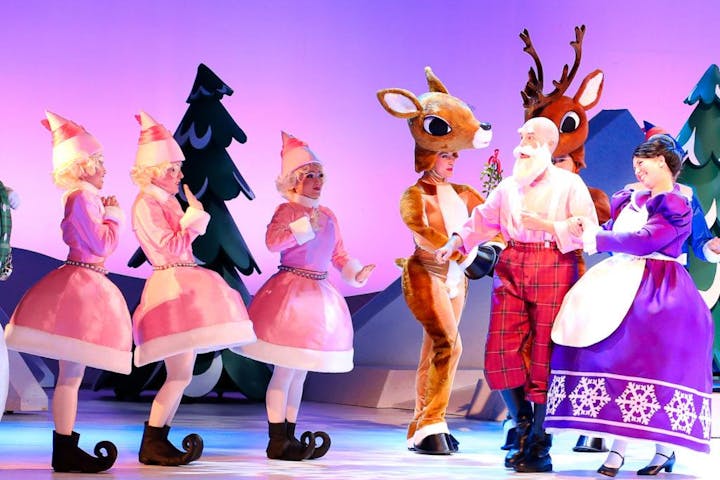 Rudolph the Red-Nosed Reindeer: The Musical
December 8, 2019 at 7:00 p.m.
The beloved TV classic soars off the screen and onto the stage this holiday season. Come see all of your favorite characters from the special including Santa and Mrs. Claus, Hermey the Elf, Bumble the Abominable Snow Monster, Clarice, Yukon Cornelius and, of course, Rudolph, as they come to life in this joyful family musical.
It's an adventure that teaches us that what makes you different can be what makes you special. Don't miss this wonderful holiday tradition that speaks to the misfit in all of us. Based on the animated television special.
The performance of Rudolph the Red-Nosed Reindeer is 90 minutes including 20 minute intermission.
An American in Paris: A New Musical
January 26, 2020 at 3:00 p.m.
In post war Paris, romance is in the air and youthful optimism reigns. Gershwin's soaring melodies are matched by gravity-defying dance as the world rediscovers the power of love in this breathtaking production. Hoping to start a new life, World War II veteran Jerry Mulligan chooses newly-liberated Paris as the place to make a name for himself as a painter. But Jerry's life becomes complicated when he meets Lise, a young Parisian shop girl with her own secret - and realizes he is not her only suitor.
Winner of four Tony Awards and inspired by the Academy Award-winning film, this exquisite production features your favorite Gershwin songs including "I Got Rhythm," "Liza," "'S Wonderful," "But Not for Me," and "Stairway to Paradise."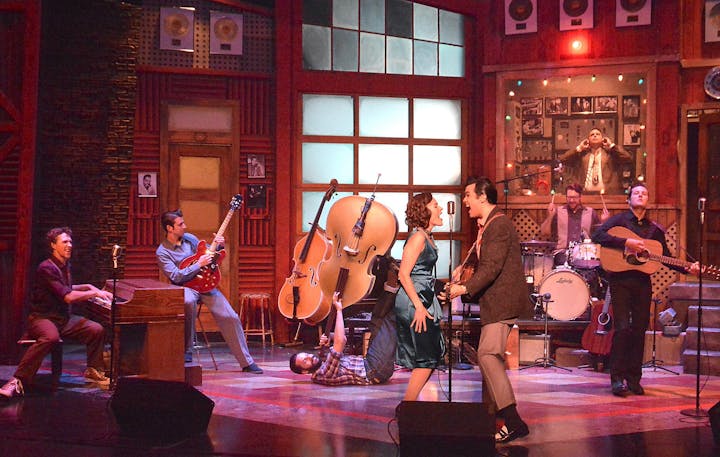 Million Dollar Quartet
March 7, 2020 at 7:30 p.m.
The Tony Award-winning smash-hit musical inspired by the famed recording session that brought together rock 'n'roll icons Elvis Presley, Johnny Cash, Jerry Lee Lewis, and Carl Perkins for the first and only time.
On December 4, 1956, these four young musicians gathered at Sun Records in Memphis for what would be one of the greatest rock 'n' roll jam sessions ever.
Million Dollar Quartet brings that unbelievable musical moment to life, featuring timeless and enduring hits including, "Blue Suede Shoes," "Fever," "That's All Right," "I Walk the Line," "Hound Dog," and more.
Don't miss your chance to experience this red-hot moment in rock 'n' roll history!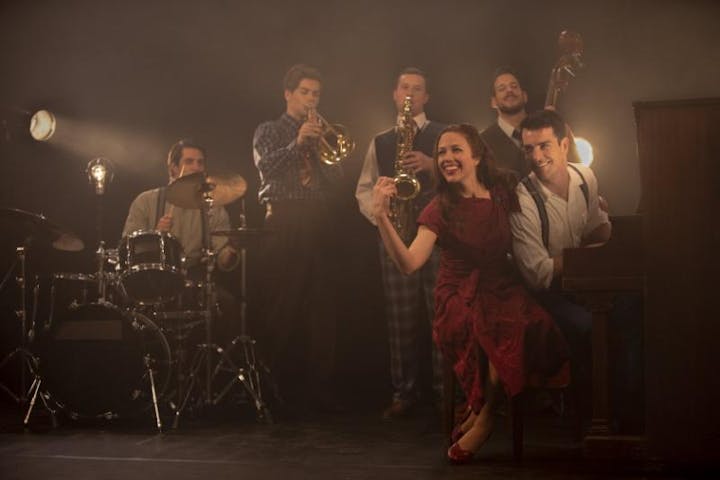 Bandstand
April 14, 2020 at 7:00 p.m.
From three-time Tony® winner and Hamilton choreographer, Andy Blankenbuehler, comes an inspiring new American musical that explodes with infectious music and high-octane, heart-stopping dancing.
It's 1945, and six soldiers return from war to a changed nation. When NBC announces a national competition to find the nation's next great musical superstars, they form a band unlike any the nation has ever seen. Along the way, they discover the power of music to face the impossible, find their voice, and finally feel like they have a place to call home.
"The show defies you not to be moved" (Time Out New York).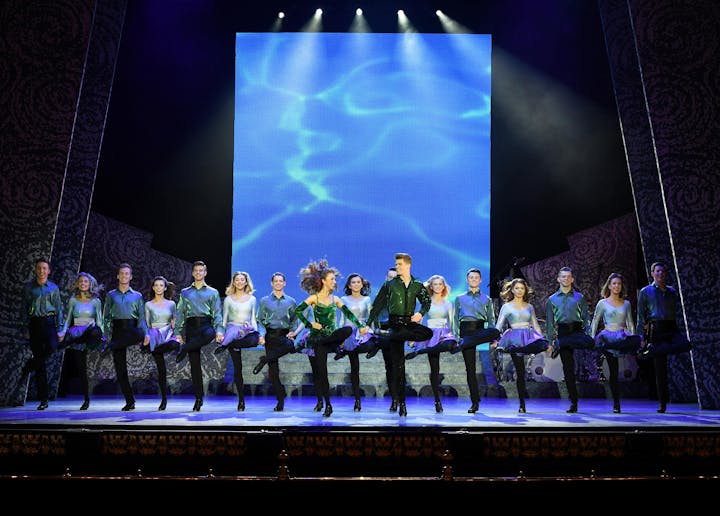 Riverdance - New 25th Anniversary Show

May 5 & 6, 2020 at 7:00 p.m.

Riverdance, as you've never seen it before!

A powerful and stirring reinvention of this beloved favourite, celebrated the world over for its Grammy award-winning score and the thrilling energy and passion of its Irish and international dance.

Twenty-five years on, composer Bill Whelan has rerecorded his mesmerising soundtrack while producer Moya Doherty and director John McColgan have completely reimagined the ground-breaking show with innovative and spectacular lighting, projection, stage and costume designs.

Immerse yourself in the extraordinary power and grace of its music and dance – beloved by fans of all ages.

Fall in love with the magic of Riverdance all over again.Note: This show has a separate seating chart.

Venue Information:
Cheyenne Civic Center
510 W 20th St
Cheyenne, WY, 82001